A fun-packed day at the beach means swimming in a tranquil atmosphere without having to worry about your stuff. This situation can only happen if you have everything you need in one safe place.
Your sunscreen lotion, towel, umbrella, and swimming costume are all essential to make your day at the beach a success.
So, what is the best place you can put all this stuff when you are enjoying the tranquil atmosphere at the beach? The perfect solution is a beach bag.
You will need to have all these things packed safely somewhere without scattering all over the place.
The best beach bag, therefore, offer you a long-lasting solution to this need.
You will need a perfect beach bag tote that will help you organize your things well and nicely. For that reason, you should know how to choose the best beach bag manufacturer and supplier.
In a nutshell, the best beach bag should provide excellent functionality, superior quality, and long-lasting performance.
What to Consider When Buying a Beach Tote
Size: Size is one essential aspect to take into consideration when you are buying a tote beach bag. The size of the beach tote will determine its capacity and what you can fit in it.
For instance, if you are planning to visit the beaches with family or friends, you are likely to carry many things that will get all of you comfortable. In that situation, you will require a large family beach bag.
One large cross-body beach bag, for instance, will save you the headaches of carrying many bags to the beach.
It is crucial for the capacity of a summer tote beach bag to fit more than one towel, some snacks, personal effects, and say some books.
Material: The market has all sorts of beach bags made from various fabrics and materials. Therefore, it is essential to understand your needs and works best for you.
For instance, you are likely to have your beach tote bag exposed to wet surfaces at the beach; in that case, you should consider materials that make your beach bag waterproof.
In additional, if you have kids and want to carry a heavy load to the beach, you will need a heavy-duty beach bag that will not be ripped or torn easily.
Almost every feature of a beach bag depends on the material used to make. Be it a leather beach bag, canvas beach tote, straw beach bags wholesale, or vinyl beach tote bag; you must get the best that will get all your work done excellently. The price of a beach bag also depends on its fabric.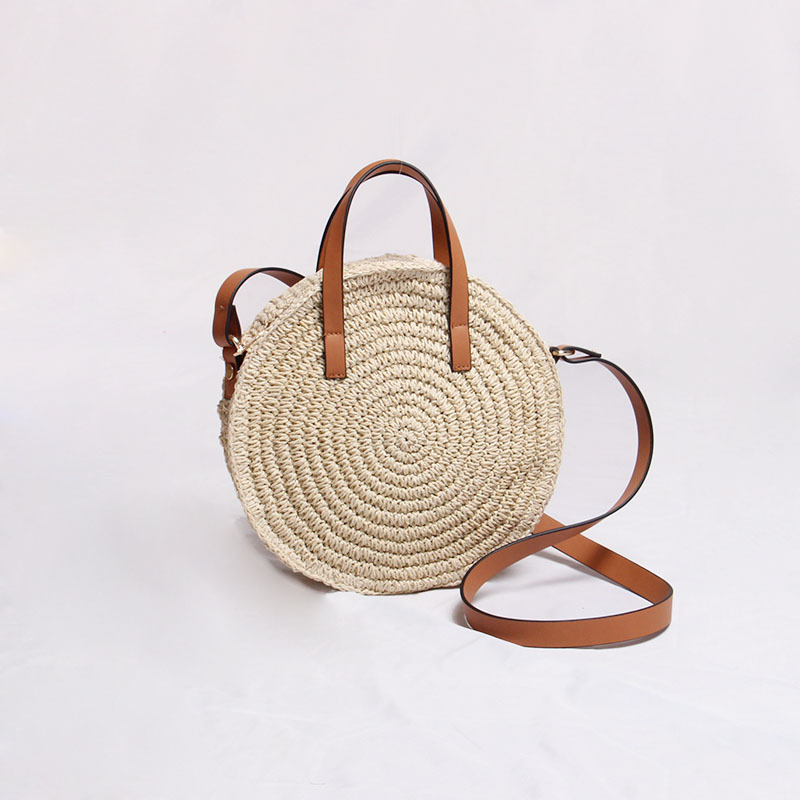 Waterproof properties: A waterproof beach tote bag is ideally the best option for beaches.
That is mostly because you will not want water getting into your pricy items like laptops and phones.
You will want a bag that does not allow penetration or one that is coated with wax to prevent water from getting into the content of the beach bag.
If you do not like the entire idea of having a waterproof beach bag, then you may as well one that has only the base coated with wax or any other watertight material. That will at least prevent water from the wet sand getting into the bag.
Insulation: Most people like carrying home-made food to the beaches or any other snack, your food must remain as fresh and warm as possible.
Some beach tote bags are made with insulated compartments for that reason. These sections of the tote bag will keep your packed food warm and may also keep your drinks as cold as possible during the warm weather.
This gives you the freedom to relax without worrying about warming the food for your family. Additionally, this feature brings convenience by eliminating the need to bring a cooler with you to the beach.
Open or closed top: A beach is a public place, and not everyone there has the best of motives.
Additionally, you risk sand getting in your stuff, and it can be annoying to remove sand form your belongings.
Worst case scenario, you can accidentally drop the bag and scatter all your things on the sand. For all these reasons, it would be wise if you opted for a zipper beach bag.
The number of pockets: Versatility is something we all love.
Nothing beats the feeling of having multiple options to carry your things around in one beach bag.
Additionally, a beach is somewhere you want to relax and enjoy quality time. You may not want to waste your time and effort looking for an item you packed in the bag.
Multiple pocket compartments help you get more organized by having items classified and placed in different compartments.
Additionally, a large beach bag with many pockets provides extra storage place. What's more, the pockets will make it easier for you to access your stuff. That being the case, you may want to try a zippered pockets beach bag.
Packing and storage: Okay, don't get this one wrong, but you will not use your beach bag all the time.
A beach tote bag is something you use for a specific occasion, which is when you are going to the beach. After that, you will want to keep it somewhere safe.
Regardless of its capacity and size, the bag should be easy to fold, which offers excellent packing and storing convenience.
Once your vacation days at the beach are over, you should pack the bag seamlessly and keep it away until the next time it is needed.
Additional features: At the moment, the number of models and brands of beach tote bags for vacations can be overwhelming.
That's because every manufacturer is competing to grab the attention of users and potential customers. Some beach bag manufacturers will go the extra mile to add more features and customization to beach bags for travel and vacation.
Some beach tote bags are designed with USB ports that you can use to charge your electronic devices while enjoying fun-time at the beach.
Some may come with key holders and bottler openers for convenience. Antitheft beach bags are also great for keeping your priced devices safe.
All these features will make your vacation comfortable, which makes such beach bags perfect for everyone.