As we know that it is challenging to find fashion bags that fits everything that you need for the day. The larger the container, the heavier it becomes to carry it even without anything inside it. Perhaps, for this reason, the latest years witnessed the shoulder bags' shrinking and shrinking until they reached the size of wallets.
But we do carry plenty of things when we go about our daily casual business. And even when we need a dressy purse for an elegant night out, we still require a bag to fit in our phone, wallet, hand sanitizer, PPE, and a handful of cosmetic items. Luckily, the fashion industry took a new look at tiny-sized purses and decided to put them on the bench for a while.
The Oversized Bag is Back in Fashion
After years of women trying to fit everything they needed in those mini-purses that kept the fashion for headlines for so long, the oversized tote bag/pu shoulder bag is back – bigger and even better. The trends flipped on their heads, and now, the minimalistic purse sits this spring out, as designers filled the runways with larger-than-life bags and totes to meet all tastes and exceed all expectations. Since the oversized handbags are the new must-have style, one cannot help but wonder what these bags might be.
Super-large tote bags that could fit all your belongings and then some
Natural fabrics like bamboo handles, rope handles, or jute purse bodies;
White large shoulder bags for the summer;
Two-tone oversized bags to blend in your colorful beach attire, and more.
One problem with oversized bags is that they are heavy and bulky on their own, as we have already said. So let's discuss the oversized canvas tote bags as a lightweight fashion accessory to consider this season!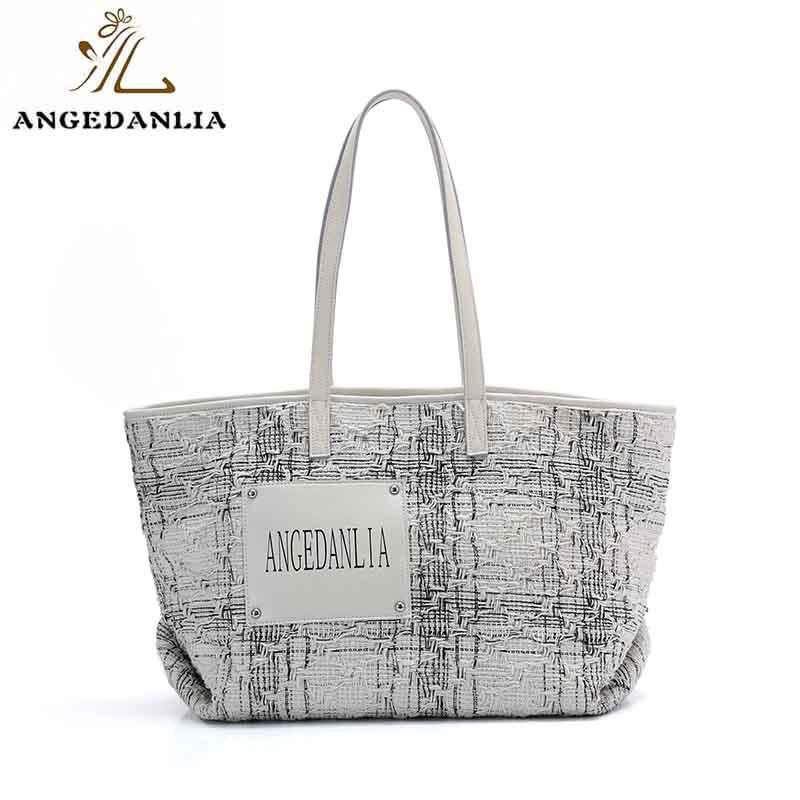 The Advantages of Huge Tote Bags
Tote bags are the perfect answer to this weight problem, as they are not only very spacious while being sturdy, but are also very light to carry.
The weight of tote bags is so light that if you carry them on your shoulder, you won't even feel them. Large tote bags will let you put all the stuff that you might need to survive a day out.
The material used to make most tote bags is quite sturdy. This feature makes them last longer, even with extended and regular use. If you have a more significant space requirement, as you generally need to carry many things at a time, then we will suggest that you go for big tote bags, which will suit your needs perfectly. You can use them for professional as well as casual purposes.
The big tote bags have enough space to carry laptops along with the adaptor, your reading material, phone, wallet, reusable water bottle, cosmetics, PPE, and lots more.
Huge Tote Bags to Wear this Season and Be One with the Trends
Before anything else, make sure you pick the right size tote for each event or situation. Even if it is trendy to wear humongous bags this summer, they are not always practical. After all, the return of the oversized custom canvas tote bags does not mean you have to forget everything you know about small or mid-size purses!
Let's start with an oversized designer canvas tote bags that covers two or three trends in one: the oversized white canvas tote with fancy rope handles!
This trendy multi-purpose bag meets plenty of needs, as it can accompany you in a multitude of situations.
Take it to the beach;
Use it as a shopping bag;
Pair it with a maxi dress and a pair of sandals or sneakers for a casual day out;
Add it to your favorite summer outfit for a casual night out with friends!
Next on our list of oversized tote bags to wear this summer and be chic is the fashion huge burlap bag for the office or formal meetings.
Wear this bag with a pair of heels, and you have an elegant yet breezy attire for work, a business meeting, or a fashionable day in the city. This women's canvas tote bags is any modern designer's dream, as it can fit quite a load inside, comes in a renewable material, features natural color, and is versatile enough to accompany you to the office or a fancy dinner.
One of the best canvas tote bags to use this season without being caught or stuck in the subway's turnpikes, revolving doors at the mall or other tight places is the jumbo-size heavy canvas deluxe tote.
It is a shoulder bag so versatile that you can wear it on any occasion.