PVC and polyurethane leather are widely used by fast-fashion labels due to their price and superficial similarity to genuine animal skins.
Some brands have started using more eco-friendly substitutes drawn from agricultural waste, though the higher prices limit mass-market appeal and product quality is uneven.
Fashion houses are intensively searching for a viable, animal-free leather alternative that can help them tap into this market while satisfying the demands of their clientele.
The first widely-used leather alternative was polyvinyl chloride, or PVC. It is used by labels like vegan brand Matt & Nat, which likes its low price, and visual and tactile similarities to cow leather. The problem is that it's what Greenpeace calls the "single most environmentally damaging of all plastics". Through its entire lifespan, PVC releases toxic fumes including phthalates, dioxins and BPA. Luxury brands don't typically utilise PVC as a leather substitute, but instead employ it for see-through vinyl purses and shoes.
For both non-toxicity and its superior suppleness, polyurethane (PU) leather, a synthetic plastic polymer, is the more popular option for the fashion industry. Wide-ranging in quality and price, it is created by applying a spongy PU coating to a fabric backing. While the material is most often used in fast fashion, it also counts Stella McCartney as a client. The London-headquartered brand uses a water-based and solvent-free polyurethane leather with a recycled polyester backing, which it calls alter-nappa. The luxury label claims many of its customers can't distinguish between PU leather handbags and genuine animal hides.
Synthetic, plant-based leathers
While they are still finished with non-biodegradable glues or foils, plant-based leathers drawn from agricultural waste use less water and chemicals, and emit fewer carbon emissions than pure synthetics. One such alternative is apple leather, a material created by the Italian startup Frumat that combines waste from processing apples in the Italian Alps with PU. It's been used to make the uppers for the on-trend, chunky vegan sneakers from Italian brand Womsh.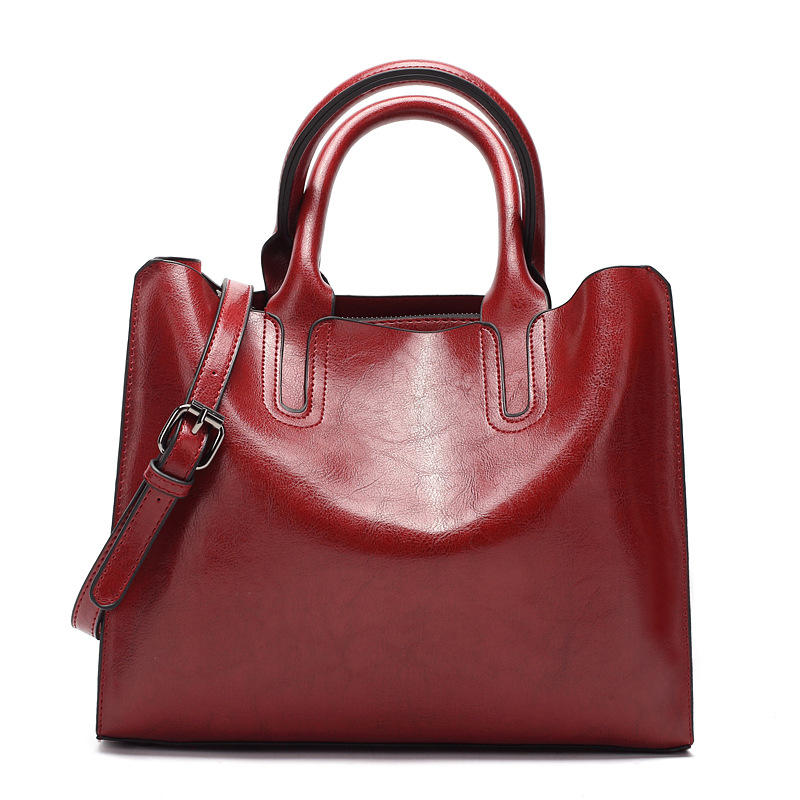 "It is more breathable, and has a much more luxurious look and feel than PU alternatives," says Emma Scarf, an analyst at Fashion for Good. However, it is twice as expensive as comparable customized woman pu leather handbags, says Vanita Badlani Bagri, founder of vegan handbag label LaBante, which is launching pre-orders for an apple leather line in August.
A more popular substitute is Piñatex, which is made from pineapple leaf waste from the Philippines. Created by London-based company Ananas Anam, it is regarded as the most affordable, plant-based leather option and has appeared in hundreds of products, including those made by Hugo Boss. Existing versions are coated with a synthetic material to give it the leather-like look, though Ananas Anam says it's working on a biodegradable alternative. Another drawback is its texture is similar to crinkled cardboard, which can turn off designers.
The newest and most exciting entrant to the field of plant-based leather is Mirum. Created by Natural Fiber Welding, it's the brainchild of a chemist who came up with it while teaching at the US Naval Academy. At its Illinois factory, the startup uses natural ingredients such as waste cork, hemp, coconut and vegetable oil to create biodegradable composites. The fibrous mixtures are compressed with a mould to create the pattern and texture of leather. Brands can even send patterned textiles to Natural Fiber Welding to be turned into customised, leather-like products.
Mirum's promised versatility could make it a fashion industry favourite. It can be coloured using nontoxic mineral pigments and plant dyes, which are mixed in without water. Natural Fiber Welding is in talks with several large fashion brands that it won't disclose, though leather goods made with Mirum could be in stores as soon as autumn 2019. The question, however, remains as to whether it will feel like leather and last as long.
Real, animal-free leather
The leather industry has geared up to defend animal hide, which customers still associate with higher quality. Until life-cycle assessments (LCAs) that also consider the lifespan and disposal of vegan leather come through, it's unclear if plant-based leathers are more eco-friendly than vegetable-tanned leather. (Most of these materials are either still in development or in limited commercial release, and none of the companies would offer an estimated release date for LCAs.) "The lifespan of these fake leathers tend to be shorter than natural leathers, as they do not wear well or age over time," says Fashion for Good's Ley.
That's why the fashion industry is so excited about the possibility of bio-fabricated or cultured leather, which promises to have all the properties of leather without involving animals. New Jersey startup Modern Meadow bio-engineers yeast to spit out collagen, which is then moulded into a material that is imprinted, tanned and dyed to create a completely animal-free material called Zoa. Modern Meadow says it can tune the bio-engineered material to a brand's exact specifications of thickness, texture, colour and stretch, and it would be comparable in price to luxury leather. Early hands-on reviews have been positive, with Quartz calling a small sample it previewed similar in look and feel to top-grain leather.