If you are a bag fanatic, then you are aware of the versatility that a tote bag possesses. It is perhaps the most universally used bag in the accessories industry. Canvas tote bags are a fantastic choice to own because they are fashionable, functional, and easy to clean and durable.
The Utility of Canvas Tote Bags: Why Are They So Popular?
If you do not own a tote bag, you may be wondering why they are so useful. Throughout tote bag manufacturer, these utilitarian yet fashionable items proved their practicality time and again. Canvas bags come in a variety of sizes from small to large, have two handles and one main compartment.
Tote bags have very little internal organization. This tends to make the tote bag a preferred choice, as there are no dividers or pockets, which makes it easy to carry anything you desire. However, they do come with front or side pockets for your convenience, as they are able to hold a host of items, depending on your needs.
Nevertheless, the simplistic design makes the tote bag the answer to all your carrying needs, no matter if you go shopping or prepare for an awesome day at the beach. If you choose to use a canvas bag when buying groceries, you could also utilize them for travel or other daily or special activities.
Last but not least, using tote bags is the right thing to do from an environmental standpoint. The ecological value of reusable tote bags is unquestionable.
There are many ways to utilize quality canvas tote bags. We will offer you a full guide on how to utilize high-quality fashion canvas handbags for all your needs!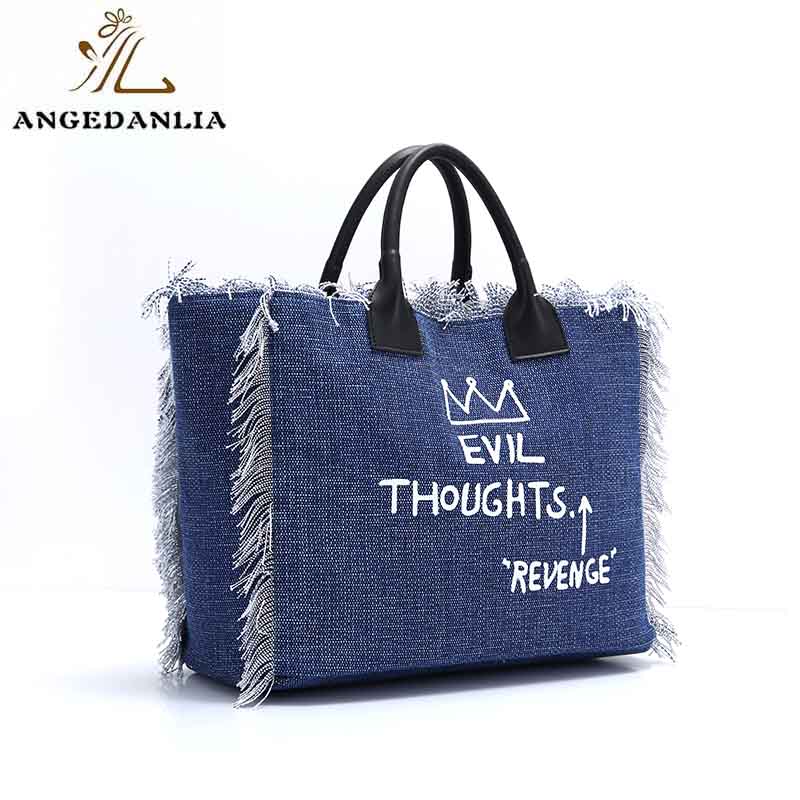 How to Use Tote Bags for All Your Daily Needs and Activities
Next, we will discuss the myriad of functions a tote bag can cover, from its original purpose – reusable grocery bag – to its fashion purpose: always keep you trendy and cool!
Shopping Bag
Using a tote bag as a reusable shopping bag is an economical and eco-friendly alternative to the plastic bags offered at the store. With so many plastic bag bans implemented across the world, the reusable canvas shopping bag is here to stay.
When you use a canvas tote bag for shopping purposes, you need to know and apply a couple of tips to keep it germ-free, especially during these times of global health concerns. Moreover, you should also check out our guide on how to machine wash shopping tote bags so you can keep it clean and in shape for years of frequent use.
School Bag
Using a tote bag as a school bag is a great option for school in comparison to the traditional backpack. Tote bags make some of the most versatile, carryall, stylish, and useful teacher bags as well. A heavy canvas zippered tote bag for women in vibrant two-tone designs will satisfy even the most sophisticated of tastes and needs when it comes to carrying school items.
As school bags go, we recommend you to pick tote bags with zippers, front and side pockets, large interior compartments (evidently), and strong handles.
Beach Bag/Pool Bag
When a canvas tote bag doubles as a beach/pool bag, you can be sure it will hold everything you need to take to have some fun in the sun. Canvas tote bags can easily fit flip-flops, sunscreen, a book, and a towel, among many other beach bag essentials you should never forget at home. The best part is that you can either get a specialized beach bag or a simple jumbo canvas tote beach bag to style it yourself!
Gym Bag
There are gym totes available that are both sporty and stylish. We recommend a non-woven zippered polypropylene tote bag for the gym or other athletic activities. Non-woven polypropylene is an eco-friendly fabric and makes an excellent choice as a sports accessory due to its physical and chemical properties.
Knitting/Crafts Bag
Canvas tote bags represent an easy and convenient way to carry or store craft/knitting supplies from place to place. For you to safely and stylishly carry your arts and crafts, magazines, and knitting/handmade creation accessories, we recommend a full gusset heavy canvas large tote bag. It will hold everything in place and help you achieve a modern look with no effort.