In our thrift age, turning old clothes or items into new ones brings together the best of both worlds of eco-friendliness and DIY creativity. Today, we will see a few ideas on how to make a tote handbags for women out of clothes/pieces you already have, but you do not want to throw away or donate!
What is Upcycling?
We have talked about recycling and upcycling many times before – the latter meaning the transformation of something old/used into something new, functional, and beautiful.
In comparison, recycling means breaking down old items into their base materials and use those materials to create new products, often of lesser quality.
In the vein of ethical fashion and reducing the textile industry's significant adverse effect on the environment, upcycling rises as one of the best solutions we have right now. As we said before, the world is slowly but steadily embracing sustainable vegan fabrics, but we still have a long way ahead of us until we get to wear summer sandals and soybean cashmere just as frequently as we wear animal leather and wool.
What we can do now is acknowledge that upcycling is both fun and useful – it certainly saves you some money on buying new clothes or accessories. Moreover, we can all agree that tote bags make some of the most popular items these days, as they serve many purposes. You can use them as shopping bags, fashion bags, promotional items for your business, and more.
If you always wanted to know how to make a tote bag at home, we will see you and raise you: let's learn today how to make tote bags out of clothes and items you already have, and you want to turn into cute and fully functional tote bags!
1. How to Make a Tote Bag – An Old T-Shirt: No Sewing Required
What do you look for when you buy a new large canvas tote bag for shopping? You want it to be sturdy and durable, have robust shoulder straps, and fit inside all the groceries you plan or happen to buy when you go out. Following this trail of thinking, let's see how to make a tote bag using a t-shirt you have but do not wear anymore.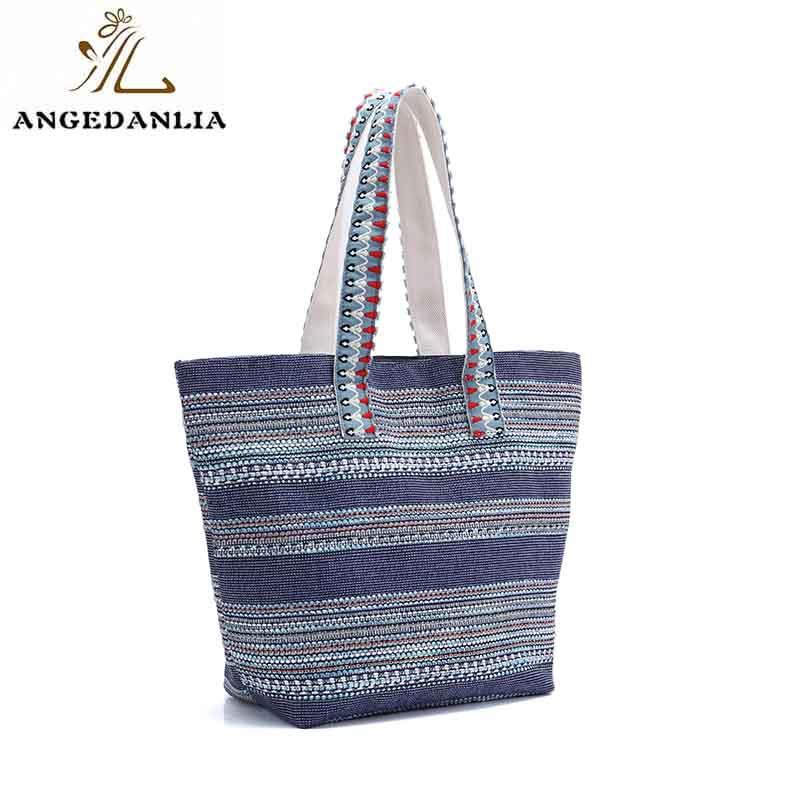 What You Need
Old t-shirt – the sturdier/thicker the fabric, the more robust the bag is;
Sharp fabric scissors;
A dinner plate – the flatter the better; some use it to make a perfect semicircle cut for the bag's opening;
A pen or a washable marker with pointy tip – to mark the areas where you have to cut;
A few straight pins – to keep the fabric in place and use as a guideline for the bottom cuts;
How to Do it
The main idea here is to remove the sleeves of the t-shirt, create a large opening for your future tote bag, and spend some time tying knots to strengthen the tote bags' bottom gusset.
How to Use it
It is easy to make a tote bag from a t-shirt. Depending on the size of the t-shirt and on how much material you trim from the bottom, you can make several tote bags depending on your needs:
A large men's t-shirt in the shape of a colorful tote bag can serve as a beach bag for the upcoming summer season. Of course, you should consider a waterproof polyester beach bag for your seaside adventures, but luckily for you, we have a full tutorial on how to make a canvas bag water resistant so that you can give it a spin!
A smaller women's t-shirt can become a pretty, and fancy mini-cotton tote bag you can use as a hand purse or straps handles to achieve a small fabric messenger bag for everyday errands running, school, or a casual day at work.
You can learn quickly how to make a tote bag and upcycle old t-shirts you do not want to throw away. Usually, colored and patterned t-shirts make beautiful and stylish tote bags and purses.