If it's time to buy a new backpack, and you are wondering about canvas vs leather, we have the perfect backpack material buying guide for you.
Depending on your circumstances, either canvas or leather could be the perfect bag for you.
Factors to consider are the weather conditions in your area, what you plan to use the bag for, and the amount of time you wish to spend maintaining the pack.
And then, of course, there is the question of your style.
CLASSIC LEATHER BAG
Even the most animal-conscious consumer will admit that leather is one of the best products are far as durability, and weather-proof abilities are concerned.
Strength is one of the most significant advantages of pu leather bags, and one of the biggest disadvantages of cotton bags, which won't last as long.
But there is a staggering number of plant-based faux leathers that are vegan on the market these days.
This vegan leather backpack is made from cork. Sustainable-minded entrepreneurs are working on even more faux vegan options. In the future, you may be able to choose vegan bags derived from soy, prickly pears, or kombucha tea.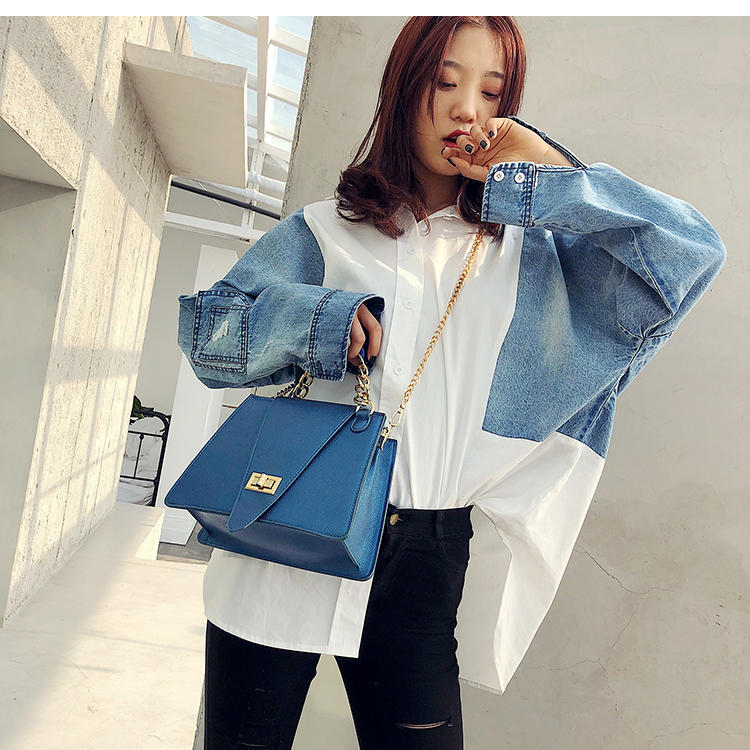 CANVAS BAGS
When considering canvas vs leather, you probably want to think about the weight of the bag too.
A handbag entirely of leather, whether real or faux, weighs more than a similarly sized canvas bag.
Leather bags are durable and can handle the weight.
Still, it is best to use the bag for situations when you do not intend to carry the bag all day - say, going to the office for work or out for a meal.
You can leave your new leather bag in a designated area once you enter the building and limit the amount of time you carry it. So it is best to consider the purpose for which the bag is to be used.
Fashion canvas tote bags are much lighter and easier to carry, so many people choose them for travel. They are not as strong as a leather backpack, but can still be quite durable.
Canvas is a plain-woven fabric that is stronger and sturdier than other materials. The canvas fibers flex and adapt to the weight and size of the items you place inside, making it a bag you will love when you need to carry a lot more items.
Canvas is also a more environmentally friendly fabric than most leathers.
The Pulse of the Fashion Industry report noted that cotton has a higher environmental impact than textiles like nylon, modal, viscose, lyocell, polyester, and polypropylene, but said organic cotton has one-quarter of the ecological implications of traditionally farmed cotton.
If you like the idea of canvas instead of a leather bag, but want a water-resistant bag, look for waxed canvas tote bags or backpacks.
They aren't entirely waterproof, but, unlike untreated canvas bags, waxed canvas bags repel raindrops and keep your stuff dry in all but the most severe downpours.
A waxed canvas bag should be water-resistant enough to protect most things, but if you're looking for a laptop case, you may want to opt for leather to keep your laptop safe from moisture.
MAINTENANCE
Canvas products require limited upkeep. If you choose a simple shopping tote bag with a fabric strap, for instance, you can easily clean it in the washing machine.
Most canvases are easy to clean from dust and debris by merely using a bristle brush or a damp cloth to wipe them.
You can also treat the material for more endurance with specialized sprays to make them waterproof.
Whether someone takes care of canvas material or not, canvas bags are more prone to ripping, tearing, and general wear and tear - primarily if they are used to carry heavy items.
If you take a canvas bag to the beach, the pockets will remain full of sand, and colors that were vibrant at first will eventually fade in one or two years.
Leather requires more attention than canvas. It absorbs everything quickly - oil stains, wine stains, or anything else will be a nightmare to get rid of - and water is the worst.
Stains also damage the fabric, so you need to frequently clean leather bags with dry or slightly damp cloths.Leather dries out quickly too.
You need to treat your fashion pu leather handbags wholesale with conditioner or wax to maintain its colors and finish. Leather will show its age by getting softer.
It creates a more refined look and showcases the rugged aspect of the leather that is also representative of the type of leather that the bag is made from - differentiating good quality from high quality.
WHEN LOOKS MATTER
You're probably not planning to bring a backpack to a formal occasion but, you never know. Although the style has become more casual in recent years, you still shouldn't carry a gift to a wedding in a backpack.
It's not easy to make an easy canvas bag look formal. If you work in a casual setting, a canvas pack that comes with a sturdy strap is an appropriate choice for your needs and style.
PRICE
Price varies, of course, but that leather material bag you love is going to be more expensive than a similar one made of canvas material.
The use of leather to make a bag adds durability, but that durability comes together with a higher price tag. A small leather bag can be two or more times the cost of canvas, one that is two times its size.
As always, consider your needs. A leather bag will likely last a much longer time than even the best canvas one.
THE WINNERS
Both leather and canvas are durable, sturdy, great looking, and promising you long years of service.
Buying leather from companies who buy their skins from meat farms is a step closer to purchasing leather that is more sustainable and recycled without contributing to the demand for killing animals to get their skin.
For those who are die-hard vegans, canvas backpacks can be made from cotton as a standard bag or designed and shaped like a leather handbag by using wax.