Beach Bag Fabrics
The make of beach bags features different designs and materials. The main point of consideration should be the conditions in which you want to use the beach bag.
In most cases, you will have your beach tote in wet places.
The fabric used to make the beach bag should, therefore, offer the best performance under such conditions to ensure your content is safe at all times. Conversely, the material determines the quality, reliability, and durability of the beach tote bag.
Below are the elements that we use to make the best summer tote beach bags for travel and vacations.
Canvas beach bags
Canvas is mainly made from cotton that is woven carefully. The techniques used to knit cotton when making canvas beach bags make the product more robust and sturdier.
Canvas beach bags can serve many purposes since they are durable. Our canvas beach bags for travel are more versatile in the sense that you can also use them for shopping.
This feature makes us ideal suppliers of heavy-duty beach bags that you can use for your travels and vacations. The bags can carry heavy loads and not show any sign of ripping or wear and tear.
You will also use these beach bags for long since they are very durable. That is not all; canvas beach bags are easy to clean and maintain.
You only need to wash them to remove stains. However, you may want to check the directions and instructions on washing them.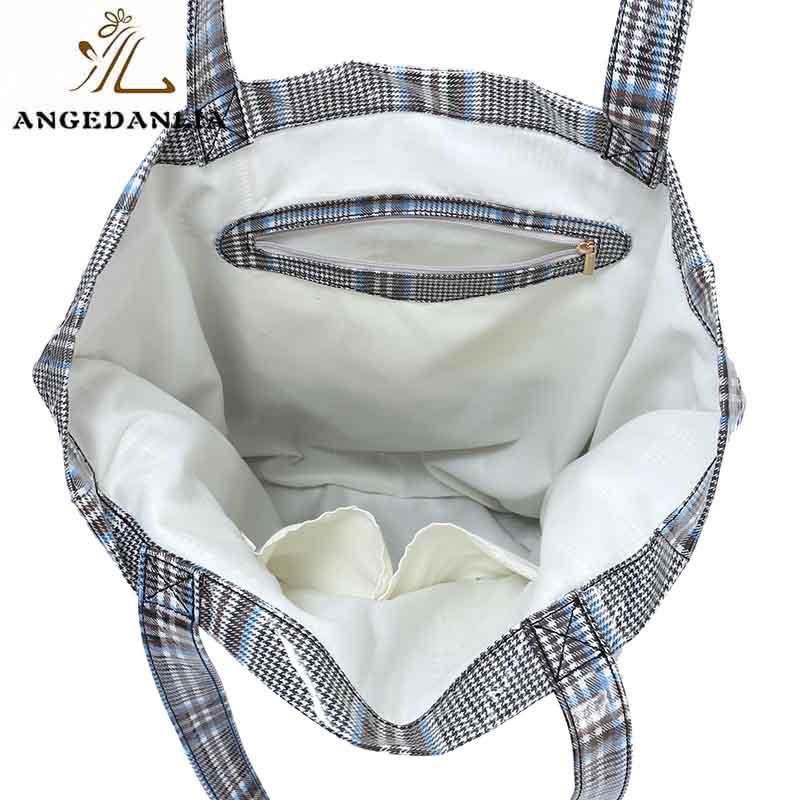 Nylon beach tote bags
The essential aspect of nylon beach tote bags is that they have the highest strength to weight ratio and tenacity. These beach bags are often lightweight but still offer excellent load carriage.
Conversely, nylon beach bags rarely show wrinkles. Lastly, nylon beach tote bags for vacations have offer versatile functionalities and are very easy to clean and maintain.
Jute beach bags
Jute may be a new term for many users of beach bags. Jute is a material that is made out of rugged fiber that comes from a plant in the tropics.
Jute is mostly used in twine, rope, and mats. Jute beach bags are unique because they have a coarse and more natural appearance.
The rugged texture makes these beach bags very stylish. The design also enhances robustness and resilience to wear and tear.
What's more, the fabric is biodegradable and can be reused and recycled. If you are looking for a unique style, then you should consider an excellent supplier of jute beach bags.


Vinyl beach tote bags
Are you looking for a waterproof beach bag that will keep your items dry even when under wet conditions? Vinyl beach bags are the ideal solutions for such circumstances since the fabric is naturally watertight.
The bags are also easy to clean and have a soft surface
Advantages of our beach bags for travel and vacations
Finding the best beach bags manufacturer and supplier can be challenging for some people. That is why we try to offer the best buying guide that can help you get the right supplier and the best beach bags in the market.
Our beach bags will provide you with a wide range of solutions that will make all your travel and vacation items for the beach packed and sorted safely.
Below are some of the features that we take keen considerations to ensure convenience and quality.
Portability
Would you love dragging your beach bag behind you on the beach? Wait, let me guess. I think not. Beach bags are often designed to hold more items, and this means they may be more cumbersome and hard to carry.
However, our models are given a minimal design with extra pockets to take in more items while still retaining easy to carry feature. Additionally, we have personalized beach bags and beach bags with handles that make it easier for you to carry them.
Spacious
Our beach bags for travel and vacations are spacious to ensure you get to carry every item you require to make your experience on the beach more exciting and comfortable.
The best beach bags for travel and vacation should have extra compartments and pockets that can hold different stuff for the beach. This design is also excellent in ensuring everything is sorted and organized well for easy access.


Content protection
If you are planning to carry priced accessories with you at the beach, then you will not have to worry so much about their safety.
Manufacture the best antitheft beach bags that can keep your laptops, phones, and other expensive items safe. Additionally, the waterproof design makes it easier to keep your things protected from damage by water.
Easy cleaning and maintenance
The fabric we use in making our beach bags for travel and vacations are easy to clean and maintain.
Some beach bags require washing to remove stains, while some only require wiping their surfaces.
What's more, these bags are durable and resistant to wear and tear, which means you do not have to waste your time taking care of them to enhance their life span.
Lastly, our beach tote bags can be reused and recycles, making them eco-friendly.